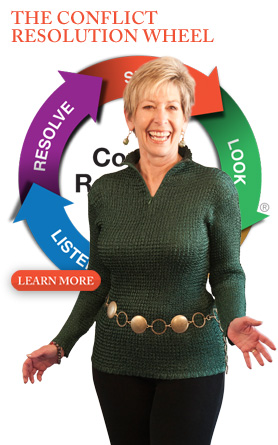 Sherry brings over 20 years of experience as a top sales professional. She has run operational divisions of Fortune 1000 companies and had her own recruiting firm. For the last sixteen years, Sherry has been a motivational speaker and certified executive coach. She is a Reiki/Master teacher and raced sports cars for many years. Her experience, energy, humor and great sense of compassion makes all of her topics and work sessions exciting. She has the ability to make each person in the audience feel like she is talking directly to them. Participants will walk away having laughed, possibly cried and definitely pondering what could be different in their lives as they use their new tools. They are ready to implement & embrace change.
Sherry has coached a variety of people, from CEOs to the NFL Alumni, anyone looking to decrease conflict and achieve balance and happiness in their lives. She is geared to support clients by helping them to understand how they got in their current situation and how to chart a new course for their lives.  The key to this unique relationship is the accountability factor.  Without a built-in accountability plan for change, there can be no progress.
What makes Sherry so qualified is her solid business background, her CTI (Coaches Training Institute) Certification, degree in Organizational Behavior and her no-nonsense approach to solving conflict. The key to her high energy, thought-provoking work is her unique ability to see all sides of an issue.
Sherry's Professional Qualifications and Published Work
B.S. in Organizational Behavior – University of San Francisco 
Coaching Certification – The Coaches Training Institute (this certification requires over 500 hours of training)
Published in:  Zenith Woman Magazine, monthly contributor to The  Denver Nursing Times and Oklahoma Nursing Times
Featured in: Women's Edition Magazine, Denver Woman Magazine
Sherry's Awards and Volunteer Work
President's Club awards for all years eligible for top sales performance at Automatic Data Processing (ADP)
Highest dollar volume sales ADP Southern California
Highest quality service awards ADP
Top sales producer Cap Gemini America – Los Angeles
Board Member of the Colorado Women's Chamber of Commerce 
Volunteer of the Year 2007 for the Colorado Women's Chamber of Commerce
Board Member of Life Advancement  (non-profit organization)
2008-2011 Speaker for The Women's Vision Foundation, Lunch & Learn series