Introduction to Sherry Ray
Race Car Driver – Stop Spinning Your Wheels – Find Your Traction
Corporate Manager – Business Owner – She walked in your shoes!
Top Sales Producer – Understanding process, pressure, pain and rewards
Author – Finding Traction, Recapture Your Drive At Work
Decades of providing inspirational motivation and on-going support
Uncanny street sense – turning challenges into opportunities
Authentic life experiences/learnings you will relate to
Fun, Dynamic, Energetic, Enthusiastic, Engaging, Relevant, Real
When's the last time you yelled Yee-Haw!
Wish you could be selling more?
What People are Saying
"Sherry is a dynamo! Her HIGH energy and enthusiasm will hold the attention of any group. I have asked Sherry to address my local association group on several occasions and she has been a hit each time."
Mark Petersen, Manager, Fleet Operations at Panasonic USA
Finding Traction
Recapture your drive at work
If you think spinning out in a race car at 130 mph makes you feel out of control, imagine spending years in the workplace unhappy, unfulfilled and unsure of yourself. Finding Traction is all about putting you back in the driver's seat.
Learn More
Order Here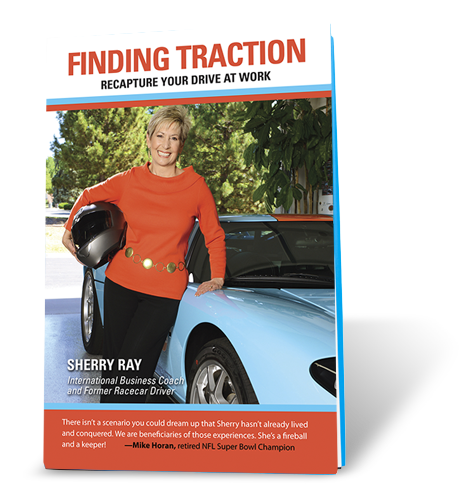 Sherry Ray Featured in the media